Fire Aboard Fishing Vessel ARCTIC STORM Off The Washington Coast
An engine room fire was reported yesterday afternoon aboard the 334-foot fishing vessel ARCTIC STORM off the Washington Coast, about 30 miles west of Gray's Harbor.  The vessel's crew reported the fire at approximately 3:30 p.m., notifying the Coast Guard that there was an uncontrollable engine room fire.  At the time the fire broke out, there were 120 crewmembers aboard.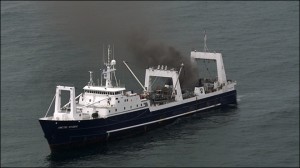 The Coast Guard dispatched two MH-60 Jayhawk helicopter crews from Air Station Astoria and three 47-foot motor lifeboat crews to the scene.  The Coast Guard also notified other ships in the area of the emergency via an Urgent Marine Information Broadcast.
The crew of the ARCTIC STORM was able to get the fire under control later in the evening before the Coast Guard arrived on scene, using the Halon chemical firefighting system aboard the ship.  However, as of yesterday evening it was still too hot to enter the engine room and assess the damage.
Four Good Samaritan commercial fishing vessels responded to provide aid, including the Sea Dawn, Northern Jaeger, Excellence and Golden Alaska.  Seventy eight of the 120 crewmembers were evacuated onto the smaller Good Samaritan vessels and transported to Westport, Washington.  Forty two crewmembers remained aboard the ARCTIC STORM to man the vessel.  As of late yesterday evening, a tug was on its way to transport the ARCTIC STORM to Aberdeen, Washington.  The vessel is expected to arrive in Aberdeen sometime today.
The ARCTIC STORM is run by Arctic Storm Management Group of Seattle and fishes for Pacific Whiting from May through June off the coast of Washington and Oregon.
There have not been any injuries reported yet in relation to this incident.  However, large scale shipboard disasters like this often lead to crewmember injuries.  For example, crewmembers are at risk of injury while participating in firefighting activities and throughout the hectic rescue process.  Any crewmembers injured as part of these activities are entitled to maintenance and cure and possible compensation under the Jones Act and general maritime law.
Situations like this that involve assistance from Good Samaritan vessels like those that came to assist the ARCTIC STAR, may also raise issues of the maritime law of salvage.  In some cases, where a Good Samaritan vessel responds to provide aid to another vessel in distress, the Good Samaritan vessel is entitled to some level of compensation from the owner of the vessel it assisted.  This rule has developed in maritime law to create incentive for vessels to help others out when there are emergencies at sea.