F/T ALASKA JURIS CREW FORCED TO ABANDONED SHIP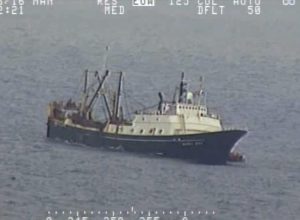 According to news reports, 46 crew members were forced to abandoned ship when the Fishing Company of Alaska factory trawler F/T ALASKA JURIS began taking on water and sinking off the coast of Alaska's Aleutian Islands yesterday.  The U.S. Coast Guard was notified at 11:30 a.m. that the vessel was in distress and taking on water.  The crew got into survival suits and deployed in three survival life rafts.  The U.S. Coast Guard reports no injuries and the entire crew was reportedly transferred from life rafts in the water to merchant ships in the area.
The 220-foot F/T ALASKA JURIS began taking on water approximately 690 miles west of Dutch Harbor.  After the crew abandoned ship, two of the lift rafts were secured to the sinking vessel in an attempt to keep the rafts from drifting away.  A third raft with another 18 members of the crew was unable to tie up to the vessel and was adrift.  Crew members in all three rafts were eventually picked up by the good Samaritan merchant vessels SPAR CANIS and VIENNA EXPRESS.  The crew was loaded onto the vessels by 8:20 p.m. and was in route to Adak, Alaska according to the U.S. Coast Guard.
The cause of the vessel taking on water is under investigation by the Coast Guard, but preliminary information points to potential mechanical problems in the ship's engine room that caused the vessel to lose power.  Weather at the scene was reportedly calm with limited visibility due to heavy fog.
The Fishing Company of Alaska is based in Renton, Washington.  Its vessels have a long history of safety concerns, including the sinking of the F/T ALASKA RANGER in 2011 leading to the death of five crew members.  The Coast Guard investigation into the sinking found a number of safety issues with the company's operation of the vessel, including improperly licensed engineers and the use of alcohol.  In March 2012, a crew member of the F/T ALASKA JURIS died after he was struck in the head with a parted cable.  In May of 2012, there was an ammonia leak on the vessel and three crew members were exposed to ammonia gas.
Our firm has represented a number of crew members in claims against The Fishing Company of Alaska and continues to push for safety improvements to prevent needless injuries and loss of life.