An engine room fire was reported yesterday afternoon aboard the 334-foot fishing vessel ARCTIC STORM off the Washington Coast, about 30 miles west of Gray's Harbor.  The vessel's crew reported the fire at approximately 3:30 p.m., notifying the Coast Guard that there was an uncontrollable engine room fire.  At the time the fire broke out, there were 120 crewmembers aboard.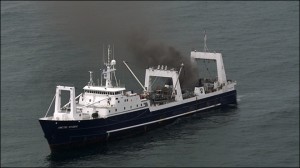 The Coast Guard dispatched two MH-60 Jayhawk helicopter crews from Air Station Astoria and three 47-foot motor lifeboat crews to the scene.  The Coast Guard also notified other ships in the area of the emergency via an Urgent Marine Information Broadcast.
The crew of the ARCTIC STORM was able to get the fire under control later in the evening before the Coast Guard arrived on scene, using the Halon chemical firefighting system aboard the ship.  However, as of yesterday evening it was still too hot to enter the engine room and assess the damage.