Update on Availability of Punitive Damages in Unseaworthiness Cases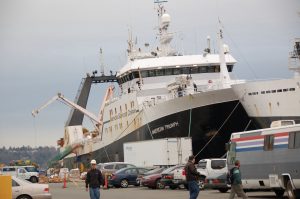 On January 23, Ninth Circuit decided Batterson v. Dutra Grp. which addressed the whether punitive damages are available in an unseaworthiness cause of action. Following last year's unanimous Washington State Supreme Court decision in Tabingo v. Am. Triumph LLC, 188 Wn.2d 41 (March 9, 2017), a three-judge panel of the Ninth Circiut answered the question in the affirmative, holding that punitive damages may be awarded in unseaworthiness cases to punish conduct which manifests reckless or callous disregard for the rights of others, gross negligence, actual malice, or criminal indifference.
This means that seamen asserting an unseaworthiness cause of action in courts within the Ninth Circuit, and in Washington State Courts, may claim punitive damages. . . . at least for now. The U.S. Supreme Court denied cert in Tabingo, supra, on January 8, but the shipowner in Batterton will almost surely seek Supreme Court review. There is currently a circuit split on this issue, as the Fifth Circuit ruled against the availability of punitive damages in McBride v. Estis Well Serv., L.L.C., 768 F.3d 382 (5th Cir. 2014), cert denied, 135 S. Ct. 2310, 191 L.Ed.2d 978 (2015). It remains to be seen whether the U.S. Supreme Court will weigh in on the issue.
Historically, courts in the Ninth Circuit and elsewhere have had an on-and-off relationship with punitive damages in unseaworthiness actions. In 1987, the Ninth Circuit held in Evich v. Morris that:
Punitive damages are available under general maritime law for claims of unseaworthiness, and for failure to pay maintenance and cure. While punitive damages are not available under the Jones Act, it does not follow that they are unavailable under general maritime law.
Evich v. Morris, 819 F.2d 256, 258 (9th Cir. 1987) (internal citations omitted). This was the generally accepted rule until the U.S. Supreme Court decided Miles v. Apex Marine Corp., 498 U.S. 19, 111 S. Ct. 317, 112 L.Ed.2d 275 (1990).
In Miles, the Court held that loss of consortium damages could not be awarded in a general maritime action for wrongful death because only "pecuniary loss" is recoverable. Although loss of consortium damages and punitive damages are two different types of damages, both are considered non-pecuniary damages and thus the Supreme Court's reasoning in Miles was interpreted to apply to punitive damage claims as well. On its face Miles considers only the damages available in wrongful death actions, but courts extended application of Miles to injury suits.
Shortly after the Supreme Court's decision in Miles, the honorable Thomas S. Zilly of the Western District of Washington held that the Ninth Circuit decision in Evich was no longer good law, and held that Miles limited seamen to damages recoverable under the Jones Act, thus precluding punitive damages:
In the opinion of this Court, the reasoning of the Miles decision is inescapable in its application here. The remedies provided by Congress under the Jones Act do not encompass punitive damages. The claimants ask this Court to supplant Congress' judgment in this regard by awarding punitive damages under general maritime law. That is not the proper function of this Court within our system of governance.
In re Complaint of Aleutian Enter., Ltd., 777 F. Supp. 793, 796 (W.D. Wash. 1991). Other courts followed suit, and several years later, in Glynn v. Roy Al Boat Mgmt. Corp., 57 F.3d 1495 (9th Cir. 1995), the Ninth Circuit reached the concludion that Miles barred an award of punitive damages in general maritime law claims for maintenance and cure.
After Glynn, the seaman's ability to recover punitive damages on general maritime law claims within the Ninth Circuit was essentially dead. More than a decade later, the U.S. Supreme Court decided Atl. Sounding Co. v. Townsend, 557 U.S. 404, 129 S. Ct. 2561, 174 L.Ed.2d 382 (2009), breathing new life into general maritime law punitive damage claims.
The Supreme Court held in Townsend that punitive damages were available for wrongful denial of maintenance and cure, reasoning that punitive damages had historically been permitted in all general maritime actions. Although Townsend did not address unseaworthiness claims directly, the reasoning applies equally to maintenance and cure and unseaworthiness causes of action.
However, in a split decision the Fifth Circuit held that Townsend did not extend to unseaworthiness actions. The case was initially heard by three justices who unanimously held that punitive damages were available. McBride v. Estis Well Serv., L.L.C., 731 F.3d 505 (5th Cir. 2013). McBride was reheard en banc by fifteen justices. Only seven justices joined the plurality opinion, which essentially held that punitive damages are categorically unavailable in unseaworthiness causes of action. McBride v. Estis Well Serv., L.L.C., 768 F.3d 382, 384-391 (5th Cir. 2014). Two justices concurred in the result, but were unwilling to go as far as a categorical bar on punitive damages in unseaworthiness cases. The concurring justices took the position that punitive damages could not be awarded in wrongful death claims under Miles, but may be available in injury claims. The concurring justices declined to allow punitive damages in McBride because the parties did not brief the differences between wrongful death and injury claims. Id. at 391-404. Six justices dissented, holding as the Ninth Circuit later did in Batterton that punitive damages are permitted. Id. at 404-424.
As it stands now, seamen bringing unseaworthiness claims within the Ninth Circuit and Washington State have the added leverage of a potential punitive damage award. Seamen within the Fifth Circuit cannot bring such claims.
Going forward, other jurisdictions considering the issue are more likely to follow the rule pronounced in Batterton (9th Cir.) and Tabingo (Washington) than McBride (5th Cir.). First, the McBride decision simply cannot be squared with the Supreme Court's decision in Townsend. Second, among the appellate judges that have ruled on the question, the vast majority have ruled in favor punitive damages. The nine justices of the Washington State Supreme Court unanimously ruled to allow punitive damages in Tabingo, as did all three Ninth Circuit justices considering the issue in Batterton. The Fifth Circuit decision in McBride was deeply fractured, with only seven of fifteen justices favoring a complete bar on punitive damages.
This is likely to remain an evolving issue for some time, as courts in other  jurisdictions weigh in.